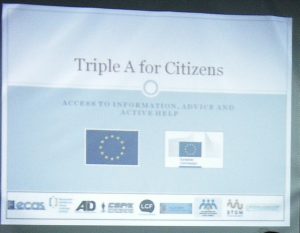 Projekat "Trostruko A za građane – pristup informacijama, savjetima i aktivnoj pomoći" je projekat koji se provodi u okviru partnerskog programa Evropske komisije za organizacije civilnog društva. Partneri u provođenju projekta su: Evropski servis za građansku akciju (ECAS), vodeća organizacija, Belgija; Nacionalna zaklada za razvoj civilnoga društva (NZRCD), Hrvatska; Asocijacija za demokratske inicijative (ADI), Bosna i Hercegovina; Program za građanska prava (CRP/K), Kosovo; Komitet pravnika za ljudska prava (YUCOM), Srbija; Centar za razvoj civilnog društva (STGM), Turska; Mreža pravnih centara (LCN), Ujedinjeno Kraljevstvo; Nacionalno udruženje kancelarija za savjetovanje građana (NACAB), Rumunija; Nacionalno udruženje za pružanje informacija građanima (NACIS), Irska.
Cilj projekta "Trostruko A" je potaknuti nevladine organizacije na pružanje informacija, savjeta i aktivne pomoći građanima na području Zapadnog Balkana i Turske. Ovaj projekat također nastoji promicati ulogu civilnog društva u osnaživanju građana i pozivanju vlade na odgovornost. Neposredni cilj ovog projekta je širiti koncept pružanja pravne pomoći građanima na prodručju Zapadnog Balkana i Turske.
Period implementacije projekta: 1/12/2012 – 28/02/2015
Projekat je podržan od strane Evropske komisije.
Project "Triple A for Citizens – Access to Information, Advice and Active Help"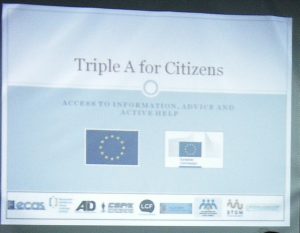 Project "Triple A for citizens – Access to Information, Advice and Active Help" is a project that is implemented in the framework of the partnership program of the European Commission for Civil Society Organizations. Partners in the implementation of this project are: European Citizen Action Service (ECAS), leading organization, Belgium;  National Foundation for Civil Society Development (NFCSD), Croatia; Association for Democratic Initiatives (ADI), Bosnia and Herzegovina; Civil Rights Programme in Kosovo (CRP/K); Lawyers' Committee for Human Rights (YUCOM), Serbia; Association of Civil Society Development Center (STGM), Turkey; Law Centres Network (LCN), United Kingdom; National Association of Citizens Advice Bureaux (NACAB), Romania; National Association of Citizens Information Services, Ireland.
The aim of the "Triple A" project is to encourage  non-governmental organizations to provide information, advice and active help to citizens in the Western Balkans and Turkey.
This project also seeks to promote the role of civil society organizations to empower citizens and to urge authorities to take responsibility.
An additional goal of the project is to spread the concept of providing legal aid for citizens in the Western Balkan and Turkey.
The implementation period of the project:  December 1, 2012 – February 28, 2015.
The project is supported by The European Commission.