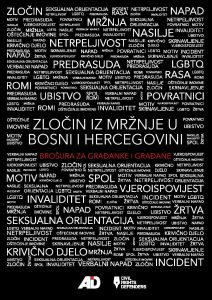 Brošura ima za cilj da pomogne građankama i građanima u Bosni i Hercegovini (BiH) da bolje razumiju i lakše prepoznaju, te adekvatno reaguju na zločine počinjene iz mržnje. Također, brošura pruža građankama i građanima informacije kako da prijave zločin iz mržnje, kako i kome da se obrate da bi zaštitili svoja prava.
Brošura je nastala uz finansijsku pomoć Civil Rights Defendersa.
Brošuru u pdf formatu na BHS i engleskom jeziku možete u cjelosti preuzeti ovdje: Zlocini iz mrznje u BiH_BSH_EN
Hate Crime in Bosnia and Herzegovina: Brochure for Citizens
The brochure is intended to help the citizens of Bosnia and Herzegovina (BiH) to better understand, easily recognize and adequately respond to hate crimes. Also, the brochure provides information to the citizens on how to report hate crime, how and to whom to turn to protect their rights.
The brochure was produced with the financial assistance of the Civil Rights Defenders.
Brochure in PDF format in BCS and English can be downloaded here: Zlocini-iz-mrznje_BSH_EN