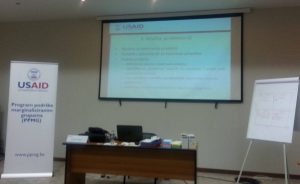 U periodu od 14-16.03.2017. godine u Garden City hotelu u Konjicu, u okviru Programa podrške marginaliziranim grupama (PPMG), koju finansira Američka agencija za međunarodni razvoj (USAID), a provodi Institut za razvoj mladih KULT kao USAID-ov ugovarač i NGO & Business Audit d.o.o. kao podugovarač, nastavljen je edukativni program osnaživanja kapaciteta organizacija civilnog društva.
Predstavnica Asocijacije za demokratske inicijative (ADI) Sarajevo učestvuje u drugom od planiranih pet modula na temu Upravljanje projektnim ciklusom – Pisanje projektnih prijedloga. Svrha radionice je omogućiti učesnicima/ama da se upoznaju sa kritičnim elementima upravljanja projektnim ciklusom, kako bi se OCD koje se bave problematikom marginaliziranih grupa u BiH pripremile za uspješno korištenje finansijske pomoći i sredstava iz međunarodnih i domaćih izvora finansiranja.
Program rada treninga u PDF-u možete preuzeti ovdje: Agenda, PCM-2

Training "Project Cycle Management – Project Proposal Writing"
In the period from March 14-16, 2017, at the Garden City Hotel in Konjic, the Marginalized Populations Support Program (PPMG), which is financed by the United States Agency for International Development (USAID), and implemented by the Institute for Youth Development KULT as an implementing partner and NGO & Business Audit Ltd. as a subcontractor, continued the educational program aimed at strengthening the capacities of civil society organizations.
Representative of the Association for Democratic Initiatives (ADI) Sarajevo is participating at the second out of five training modules, with the topic "Project Cycle Management – Project Proposal Writing." The purpose of the workshop is to enable participants to learn about critical elements of the project cycle, in order to deal with issues of marginalized groups in Bosnia and Herzegovina, as well as prepare CSOs for successful use of financial aid and funds from international and domestic sources of financing.