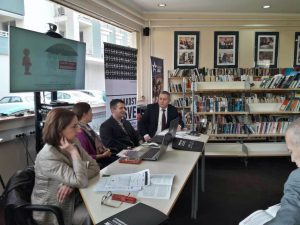 U okviru projekta "Svojstva i značaj situacionog testiranja u procesu dokazivanja diskriminacije" tokom februara i marta 2017. godine, Asocijacija za demokratske inicijative održala je dva okrugla stola. Cilj okruglih stolova bio je prisutnim učesnicima/cama približiti metodu situacionog testiranja, te njeno korištenje u svrhu istraživanja i kreiranja zagovaračkih kampanja. Također, na okruglim stolovima upriličena je i promocija priručnika "Situaciono testiranje diskriminacije – Priručnik za aktiviste/kinje". Okrugli stolovi su održani u Sarajevu, 27.02.2017. i u Banja Luci, 24.03.2017. godine. Učesnici/ce okruglog stola bili su predstavnici/ce OCD u BiH koje se bave zaštitom ljudskih prava, pružanjem besplatne pravne pomoći, praćenjem i evidentiranjem slučajeva diskriminacije, zagovaranjem za poboljšanje položaja ugroženih grupa, udruženja sudija i tužilaca, te predstavnici/ce Institucije ombudsmena/ombudsmana za ljudska prava Bosne i Hercegovine.
Sredstva za finansiranje navedenog projekta osigurala je Američka agencija za međunarodni razvoj (USAID) i Fond otvoreno društvo BiH (FOD BiH) u okviru četverogodišnjeg projekta "Jednakost za sve: Koalicija civilnog društva u borbi protiv diskriminacije".
Detaljne programe rada dva okrugla stola možete preuzeti ovdje: Program rada OS Banja Luka 24032017, Program rada OS Sarajevo 27022017
"Characteristics and Significance of Situational Testing in Process of Proving Discrimination" – Round tables Sarajevo and Banja Luka
In February and March 2017, Association for Democratic Initiatives organized two round tables within the project "Characteristics and Significance of Situational Testing in Process of Proving Discrimination". The aim of the round tables was to present the method of situational testing to participants, its use for research purposes and advocacy campaigns. Furthermore, the manual "Situational testing of Discrimination – Manual for activists" was presented during the round tables. The round tables were held in Sarajevo, February 27, 2017, and Banja Luka, March 24, 2017. Participants of the round tables were representatives of CSOs in BiH dealing with protection and promotion of human rights, providing free legal aid, monitoring and recording cases of discrimination, advocating for improvement of position of vulnerable groups, associations of judges and prosecutors, and representatives of Institution of Human Rights Ombudsman of Bosnia and Herzegovina.
Funds for implementation of the project were provided by the US Agency for International Development (USAID) and the Open Society Fund (OSF) as part of the four-year project "Equality for All: Civil Society Coalition against Discrimination".