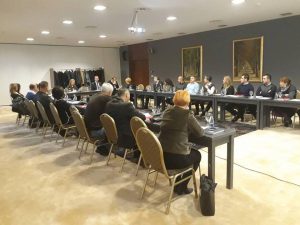 12.12.2017. godine, u hotelu "Sarajevo" u Sarajevu, održan je okrugli stol pod nazivom "Finansijske istrage u borbi protiv organizovanog kriminala u Bosni i Hercegovini – izazovi i prepreke". Okrugli stol je održan u okviru projekta "Jačanje kapaciteta istrage i krivičnog gonjenja u zemljama Zapadnog Balkana – finansijske istrage kao sredstvo za borbu protiv organizovanog kriminala i korupcije".
Predstavnici/ce institucija nadležnih za provođenje finansijskih istraga, kao i institucija za provedbu zakona i agencija na državnom i regionalnom nivou su imali/e priliku diskutirati o postojećim modelima saradnje institucija koje provode finansijske istrage u Bosni i Hercegovini, pribavljanju, razmjeni i pohrani informacija potrebnih za realizaciju finansijskih istraga – premošćavanje prepreka, kao i o uspostavi efikasnih sistema za komunikaciju između nadležnih institucija u procesu finansijskih istraga.
Okrugli stol je organizovala Asocijacija za demokratske inicijative (ADI) Sarajevo uz tehničku podršku Ambasade Kraljevine Holandije, u saradnji sa Centrom za monitoring i istraživanje (CeMI) Crna Gora i Transparentnost Srbija.
Program okruglog stola možete preuzeti ovdje Agenda_okrugli stol, Sarajevo, 12.12.2017.
Round table "Financial investigations in the fight against organized crime in Bosnia and Herzegovina – challenges and obstacles"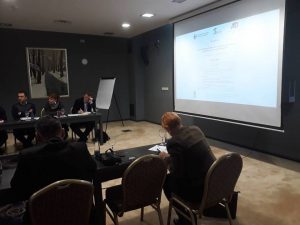 On December 12, 2017, in the hotel "Sarajevo" in Sarajevo, a round table titled "Financial investigations in the fight against organized crime in Bosnia and Herzegovina – challenges and obstacles" was organized. The round table was organized within the project "Strengthening investigation and prosecution capacities in the Western Balkan countries – Financial investigations as a tool to combat organized crime and corruption".
Representatives of institutions in charge of conducting financial investigations, as well as law enforcement agencies and agencies at the state and regional level, had the opportunity to discuss about existing models of cooperation between institutions conducting financial investigations in Bosnia and Herzegovina, obtaining, exchanging and storage of information needed for the realization of financial investigations and how to overcome obstacles in their everyday work, as well as about establishing effective systems for communication between competent institutions in the process of financial investigations.
The round table was organized by the Association for Democratic Initiatives (ADI) Sarajevo with the technical support of the Embassy of the Kingdom of the Netherlands, in cooperation with the Centre for Monitoring and Research (CeMI) Montenegro and Transparency Serbia.