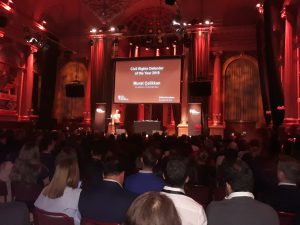 Predstavnica Asocijacije za demokratske inicijative (ADI) Sarajevo učestvovala je na konferenciji Defenders' Days 2018, koja se održavala u blizini Stockholm, Švedska. Defenders' Days is jedna od najvećih konferencija za branitelje/teljke ljudskih prava. Konferencija je održana Djurönäset u periodu od 9-12 aprila 2018. godine. Kao i prethodnih godina, organizator Defenders' Days konferencije je Civil Rights Defenders.
Cilj konferencije je jačanje i pružanje podrške braniocima/teljkama ljudskih prava. Dodatni cilj konferencije je stvaranje mogućnosti za umrežavanje i razmjenu znanja između ljudi koji su svakodnevno, uprkos riziku od sopstvene sigurnosti, bore za demokratiju, slobodu izražavanja i ljudska prava.
Konferenciju čine radionice za i zajedno sa braniteljima ljudskih prava različitih tema. Ovogodišnja konferencija se fokusirala na digitalnu bezbjednost, psihosocijalne aspekte sigurnosti i inovacije kao sredstva za borbu protiv kršenja ljudskih prava.
Uz održavanje konferencije Defenders' Days, Civil Rights Defenders svake godine organiziraju godišnju dodjelu nagrade za Civil Rights Defender of the Year. Ceremonija dodjele godišnje nagrade se održala 12 aprila 2018. godine. Dobitinik nagrade u 2018. godini je Turski branitelj ljudskih prava i novinar Murat Çelikkan – jedan od najjačih glasova Turske za otvoreniju Tursku u kojoj se poštuju ljudska prava.
Ove godine, oko 200 branitelja/teljki ljudskih prava iz 45 zemalja i 5 kontinenata je učestvovalo na konferenciji, kao i ceremoniji dodjele godišnje nagrade Civil Rights Defender of the Year.
Defenders' Days 2018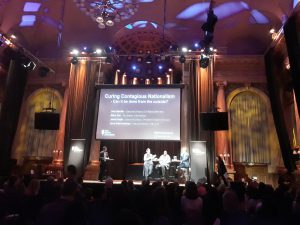 Representative of the Association for Democratic Initiatives (ADI) Sarajevo participated at the Defenders' Days 2018 conference, which was held near Stockholm, Sweden. Defenders' Days is one of the world's largest conferences for and with human rights defenders. It is organized by Civil Rights Defenders and takes place at Djurönäset between 9–12 April.
The purpose of the conference is to strengthen and support human rights defenders. Additionally, it is also to create opportunities for networking and exchange of knowledge between people who every day, despite risks to their own safety, fight for democracy, freedom of expression, and human rights.
The conference includes workshops for, and together with, human rights defenders. Among a broad list of topics, this year's conference focuses on digital security, psychosocial aspects of security, and innovation as means to combat human rights violations.
In connection with Defenders' Days, Civil Rights Defenders hands out the annual Civil Rights Defender of the Year Award. The award ceremony was held on April 12, 2018. This year, the recipient is the Turkish human rights defender and journalist Murat Celikkan – one of Turkey's strongest voices for a more open Turkey where human rights are respected.
Close to 200 human rights defenders participated in Defenders' Days 2018, and they came from 45 countries and 5 continents.
If you want to know more about the conference which has been organized since 2013, please visit the following website: https://defendersdays.civilrightsdefenders.org/about/
Agenda of the conference and the award ceremony can be found on the following link: https://defendersdays.civilrightsdefenders.org/conference/defenders-days-2018/agenda-2018/