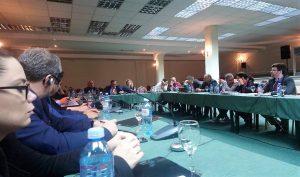 U periodu 13-15. april 2018. godine, predstavnica Asocijacije za demokratske inicijative Sarajevo, učestvovala je na sastanku Balkanske regionalne mreže za vladavinu prava (BRRLN), na Ohridu. Sastanak je organizovala Američka advokatska komora (ABA ROLI – American Bar Association, Rule Of Law Initiative). Učesnici sastanka bili su predstavnici advokatskih komora Makedonije, Albanije, Kosova i Bosne i Hercegovine, predstavnici nevladinih organizacija i članovi BRRLN-a. Ovaj sastanak označio je nastavak aktivnosti Mreže u narednoj godini, kao i projektinih aktivnosti radnih grupa zemalja članica.
Također, predstavnici ABA ROLI-a prezentirali su platformu E-learning (http://www.brrln.org/e-learning/) i web stranicu BRRLN (www.brrln.org), te su učesnici diskutovali o mogućnostima poboljšanja funkcionalnosti platforme.
Balkan Regional Rule of Law Network (BRRLN) meeting
Representative of the Association for Democratic Initiatives Sarajevo participated at the meeting of the Balkan Regional Rule of Law Network (BRRLN), which was held in Ohrid from 13 – 15 April, 2018. The meeting was organized by the American Bar Association, Rule of Law Initiative (ABA ROLI). Representatives of bar associations from Macedonia, Albania, Kosovo and Bosnia and Herzegovina, as well as representatives of non-governmental organizations and members of the BRRLN participated at the meeting. This meeting marked the continuation of the Network's activities in the next year, as well as project activities of working groups of member states.
Additionally, representatives of ABA ROLI presented the E-learning platform (http://www.brrln.org/e-learning/) and BRRLN website (www.brrln.org), after which participants discussed the possibilities of improving the platform's functionality.