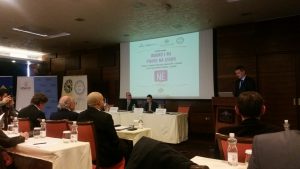 15.03.2016. godine predstavnice Asocijacije za demokratske inicijative (ADI) su učestvovale na konferenciji "Imamo i mi pravo na izbor" koja je održana u Sarajevu u hotelu Bristol, a koju su organizirali Fondacija za socijalno uključivanje u BiH (FSU u BiH) i Inicijativa za bolju i humaniju inkluziju (IBHI), u saradnji sa Misijom OSCE-a u Bosni i Hercegovini. Ova konferencija je bila dio zagovaračke kampanje "Donošenje izmjena i dopuna Izbornog zakona BiH u domenu izbornih prava nacionalnih manjina" koju FSU u BiH i IBHI realizuju u okviru Projekta održivosti civilnog društva u BiH (CSSP).
U uvodnom dijelu konferencije Predrag Jović, zamjenik ministrice za ljudska prava i izbjeglice u BiH je naglasio da je Ministarstvo za ljudska prava i izbjeglice BiH prvi put ove godine u budžetu predvidjelo finansijsku pomoć za poboljšanje položaja i mogućnosti djelovanja nacionalnih manjina, koje zahtjevaju da im drugi ne biraju predstavnike u vlasti već da one imaju pravo da budu te koje odlučuju ko će ih zastupati.
U toku konferencije bilo je diskusije o slijedećim stvarima. Predsjednik Vijeća nacionalnih manjina BiH, Tihomir Knežiček, je rekao da vijeće nastoji da definiše kriteriji koji bi definirao šta znači biti pripadnik nacionalnih manjina. Također, šef Misije OSCE-a u BiH Jonathan Moore, je poručio da je Dejtonski okvir čvrst, ali da ne zadovoljava demokratske standarde Evropske unije. Kao primjer je naveo kako u oba entiteta veliki broj opština u sastavu svojih zakonodavnih tijela nemaju mjesta za nacionalne manjine, bez obzira na to što ih veliki broj živi na tim područjima. Monitor za romska pitanja pri Misiji OSCE-a u BiH Dervo Sejdić je izjavio da niko nije protiv sprovedbe presude, ali da ne vidi da se išta konkretno radi na tome, te je poručio da je njegov stav jedan predsjednik jedna izborna jedinica. Jakob Finci, predsjednik Jevrejske zajednice u BiH naglasio je da pripadnici nacionalnih manjina nisu uključeni u rad izmjene i dopune izbornog zakona BiH te da je upitna transparentnost te radne grupe.
The Conference "We also have the right to choose"
On the 15th March 2016, representatives of the Association for Democratic Initiative (ADI) participated at the conference "We also have the right to choose". The conference was held in Sarajevo at the Hotel Bristol, and was organized by the Social Inclusion Foundation in BiH (FSU in BiH ) and the Initiative for Better and Humane Inclusion (IBHI), in cooperation with the OSCE Mission in Bosnia and Herzegovina. This conference was part of an advocacy campaign "The adoption of amendments to the BiH Election Law in the field of electoral rights of national minorities" by the FSU in BiH and IBHI as a part of the Project of Sustainability of civil society in BiH (CSSP).
In the introductory part of the conference Predrag Jović, the Deputy Minister for Human Rights and Refugees in BiH, said that the Ministry for Human Rights and Refugees of Bosnia and Herzegovina for the first time this year, has earmarked in the budget the financial assistance to improve the situation of national minorities in regards to their right to be the ones to decide on who will represent them.
The discussion during the conference revolved around the following issues. The President of the Council of National Minorities, Tihomir Knežiček, said that the Council is trying to determine the criteria that would define what it means to be a member of a national minority. Also, the head of the OSCE Mission to BiH, Jonathan Moore, said that the Dayton framework by itself does not meet the democratic standards embarked by the European Union. As an example, he stated that in a number of municipalities (in both entities) in the composition of their legislative bodies they do not have any place for minorities, regardless of the fact that a large number of minorities live in these areas. Monitor for Roma issues at the OSCE Mission to BiH, Dervo Sejdic, said that no one is against the implementation of the judgment, but that he does not see any specific improvement when it comes to the implementation of the judgment; his proposition is to also have one president for the representative of minorities along with one Bosniak, one Serb and one Croat representatives. Jakob Finci, president of the Jewish Community in BiH, stressed that members of national minorities are not involved in the amendment of the electoral law of Bosnia and Herzegovina and that the transparency of the working group is questionable