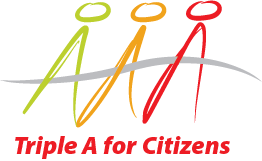 Projekat "Trostruko A za građane: pristup informacijama, savjetima i aktivnoj pomoći" je projekat koji se provodi u okviru partnerskog programa Evropske komisije za organizacije civilnog društva. U toku četvrte godine implementacije, projekat je obuhvatio sve zemlje Zapadnog Balkana uljučujući i Tursku. Partneri u provođenju projekta su: Evropski servis za građansku akciju (ECAS), Belgija, vodeća organizacija; Nacionalno udruženje za pružanje informacija građanima (NACIS), Irska; Nacionalno udruženje kancelarija za savjetovanje građana (NACAB), Rumunija; Mreža pravnih centara (LCN), Velika Britanija; Asocijacija za demokratske inicijative (ADI), Bosna i Hercegovina; Program za građanska prava (CRP/K), Kosovo; Komitet pravnika za ljudska prava (YUCOM), Srbija; Centar za razvoj civilnog društva (STGM), Turska; Makedonsko udruženje mladih pravnika (MYLA), Makedonija, Centar za monitoring i istraživanje (CEMI), Crna Gora i Fond otvoreno društvo (OSFA), Albanija.
Neposredni cilj ovog projekta je širiti koncept pružanja pravne pomoći građanima na prodručju Zapadnog Balkana i Turske. U okviru ovog projekta, ADI će uraditi analizu prepreka s kojima se suočavaju građani koji pokušavaju da ostvare svoja prava pred sudovima i državnim organima, kao i analizu iskustava sa besplatnom pravnom pomoći kao mehanizmom koji stoji na raspolaganju onim građanima koji se u ostvarivanju svojih prava susreću sa finansijskim preprekama ili diskriminacijom.
Period implementacije projekta: 1/3/2015 – 30/11/2016
Projekat je podržan od strane Evropske komisije.
Project "Triple A for Citizens: Access to Information, Advice and Active Help"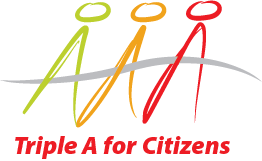 "Triple A for Citizens: Access to Information, Advice and Active Help" project is implemented in the framework of the European Commission's Partnership programme for Civil Society organisations. It is entering its fourth year of implementation in 2016 and has over the years expanded to all countries of the Western Balkans and Turkey. The implementing partners are as follows: the lead organisation European Citizen Action Service (ECAS), Belgium; National Association of Citizens Information Services (NACIS), Ireland; National Association of Citizens Advice Bureaux (NACAB), Romania; Law Centres Network (LCN), UK; Association for Democratic Initiatives (ADI), Bosnia and Herzegovina; Civil Rights Program (CRP/K), Kosovo; Lawyers' Committee for Human Rights (YUCOM), Serbia; Association of Civil Society Development Centre (STGM), Turkey; Macedonian Young Lawyers Association (MYLA), Center for Monitoring and Research (CEMI), Montenegro, and Open Society Foundation Albania (OSFA).
Immediate objective of the project is to expand the concept of providing legal assistance to citizens on territoriy of Western Balkans and Turkey. Within this project, the ADI will conduct an analysis of obstacles faced by citizens who try to exercise their rights in courts and government bodies, and gain a deeper insight into the experience with free legal aid as a mechanism that is available to those citizens who are faced with financial barriers or discrimination in the exercise of their rights.
The implementation period of the project: March 1, 2015 – November 30, 2016
The project is supported by the European Commission.