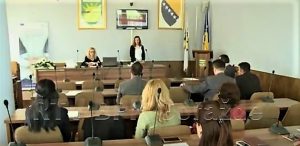 19. aprila, 2018. godine Asocijacija za demokratske inicijative održala je dvije Info sesije na temu "Govor mržnje i zločini iz mržnje".
Prva Info sesija održana je u Goraždu u prostorijama Gradske uprave uz prisustvo 17 učesnika/ca predstavnika/ca Gradske uprave, ministarstva obrazovanja, NVO, predstavnika/ca učitelja i nastavnika osnovne i srednje škole u Goraždu, kao i građani/ke Goražda. Također, RTV Goražde je bila jedan od medija koja je pripremila prilog o održanoj Info sesiji, te isti objavila u okviru Dnevnika RTV Bosansko-podrinjskog kantona Goražde. Prilog možete pogledati OVDJE.
Druga Info sesija održana je u Foči u Opštinskim prostorijama Centra za kulturu, a prisutni su bili predstavnici/ce NVO, civilne zaštite, vjerski službenici, državni službenici, policijski službenici i predstavnici pravosudnih institucija. Ukupno 11 učesnika/ca.
Cilj održanih Info sesije bio je razmjena informacija o pojavi i rasprostranjenosti govora mržnje u bh. društvu, razlozima za neadekvatnu obradu i kažnjavanje, te o eventualnim posljedicama govora mržnje na bh društvo.
Info sesija je održana u okviru projekta "Borba protiv govora mržnje i zločina iz mržnje", a pod pokroviteljstvom međunarodne organizacije za zaštitu ljudskih prava Civil Rights Defenders.
Info session "Fight against hate crime and hate speech" – Goražde i Foča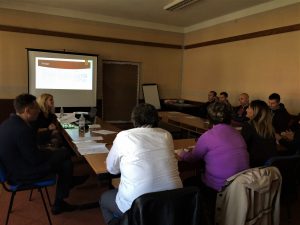 On April 19, 2018, the Association for Democratic Initiatives held two info sessions on topic "Hate speech and hate crime".
The first info session was held in Goražde in the premises of the City administration in the presence of 17 participants representing the City administration, the Ministry of education, NGOs, teachers working in primary and secondary schools in Goražde, as well as citizens of Goražde. Also, RTV Goražde was one of the media representatives that prepared a TV report on the info session, and published it within the RTV Dnevnik of the Bosnian-Podrinje Canton of Goražde. The TV report can be watched HERE.
The second info session was held in Foča in the Municipal premises of the Center for Culture. Representatives of NGOs, civil protection, religious officials, civil servants, police officers and representatives of judicial institutions were present, 11 participants total.
The aim of the info session was to exchange information on the appearance and spread of hate speech in BiH, reasons for inadequate treatment and punishment, and the possible consequences of hate speech on society in BiH.
The info sessions were held within the framework of the project "Fighting against hate speech and hate crime," under the auspices of the international organization for the protection of human rights, Civil Rights Defenders.