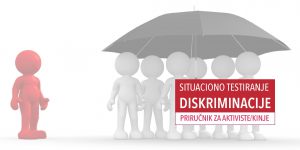 Priručnik "Situaciono testiranje diskriminacije – priručnik za aktiviste/knje" objavljen je u okviru programa "Jednakost za sve: Koalicija organizacija civilnog društva u borbi protiv diskriminacije" kroz Program grantova u okviru kojeg Asocijacija za demokratske inicijative provodi projekat "Svojstva i značaj situacionog testiranja u procesu dokazivanja diskriminacije".
Priručnik za situaciono testiranje diskriminacije je prvi priručnik na BHS jeziku koji je napisan sa namjerom da doprinese detaljnom upoznavanju sa situacionim testiranjem, razumjevanju zašto je korisno ovladati ovom metodom, u kojim slučajevima treba primjenjivati testiranje i kako ga praktično sprovesti.
Ovaj priručnik se sastoji od dva dijela: kratkog teorijskog dijela koji nam približava sam pojam testiranja, objašnjava njegovu svrhu, daje pregled kratke istorije i zakonskog okvira, i praktičnog koji se bavi metodologijom i sprovođenjem samog testiranja, uključujući i najtipičnije primjere i konkretne smjernice kako da uspješno sprovedete testiranje.
Priručnik u PDF formatu na BHS jeziku možete preuzeti ovdje: Prirucnik_Testiranje_diskriminacije
The Manual "Situational Testing of Discrimination – Manual for Activists"
The manual "Situational Testing of Discrimination – Manual for Activists" was published within the project "Characteristics and Significance of Situational Testing in Process of Proving Discrimination", implemented by the Association for Democratic Initiatives. The project is financed by the grant program "Equality for All: Civil Society Coalition against Discrimination".
The manual for situational testing is the first manual in BCS language, and it was made to contribute to a detailed introduction of situational testing, understanding why it is useful to master this method, in which cases should the testing be applied, and how to practically implement it.
The manual consists of two parts: a short theoretical part that explains the notion of testing, explains its purpose, and provides a short overview of legal framework history. The second part deals with practical notions of the testing such as methodology, implementation of the testing, including the most typical examples and concrete guidelines on how to successfully conduct the testing.