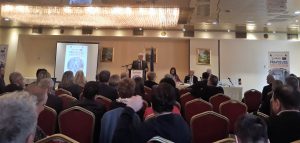 Predstavnica Asocijacije za demokratske inicijative (ADI) Sarajevo prisustvuje dvodnevnoj konferenciji "Pravosuđe – trenutno stanje i perspektiva s akcentom na borbu protiv korupcije i organiziranog kriminala", koju organizira Visoko sudsko i tužilačko vijeće Bosne i Hercegovine (VSTV BiH), u saradnji s Uredom Specijalnog predstavnika Evropske unije u Bosni i Hercegovini (EUSR) i Američkom agencijom za međunarodni razvoj (USAID). Konferencija se održava 1. i 2. februara 2018. godine u Banjoj Luci.
Riječ je o trećoj godišnjoj konferenciji na temu reforme pravosudnog sistema, koju VSTV BiH organiziraju u saradnji s EUSR-om i USAID-om. Cilj konferencije je, i ove godine, nastaviti praksu razvijanja dijaloga o tekućem procesu reforme pravosuđa, s fokusom na borbu protiv korupcije i organiziranog kriminala. Na konferenciji će biti predstavljene aktivnosti vezane za rad na Zakonu o VSTV-u BiH, Akcioni plan za provođenje mjera povodom odluka Ustavnog suda BiH o kršenju prava na suđenje u razumnom roku te zaključci Pododbora za pravdu, slobodu i sigurnost (SPP) iz 2016. i 2017. godine.
Također, planiran je rad učesnika/ca u pet radnih grupa na temu: imenovanje i ocjenjivanje; integritet i odgovornost; efikasnost i kvalitet sudova; efikasnost i kvalitet tužilaštava i procesuiranje korupcije i organiziranog kriminala, s posebnim osvrtom na saradnju tužilaštava s agencijama za provođenje zakona. Prezentacija nalaza i zaključaka radnih grupa planirana je za drugi dan konferencije.
Program konferencije možete preuzeti ovdje: Dnevni red_konferencija VSTV_EUSR_USAID_ 2018

Conference "Judiciary – the current state and perspective with an emphasis on the fight against corruption and organized crime"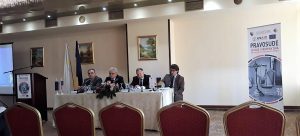 Representative of the Association for Democratic Initiatives (ADI) Sarajevo is attending a two-day conference titled "Judiciary – the current state and perspective with an emphasis on the fight against corruption and organized crime", which is organized by the High Judicial and Prosecutorial Council of Bosnia and Herzegovina (HJPC) in cooperation with the Office of the Special Representative of the European Union in Bosnia and Herzegovina (EUSR) and the United States Agency for International Development (USAID). The conference is being held on February 1 and 2, 2018 in Banja Luka.
This is the third annual conference on the reform of judicial system in BiH, organized by HJPC BiH in cooperation with the EUSR and USAID. The objective of the conference is to continue the practice of developing a dialogue on the ongoing judicial reform process with a focus on combating corruption and organized crime. The conference will present activities related to the work on the Law on HJPC BiH, the Action Plan for implementation of measures concerning the Constitutional Court's decision on breaching the right to trial within a reasonable time, and the Conclusions of the Subcommittee on Justice, Freedom and Security (SPP) reached in 2016. and 2017.